Geriatric fracture of the distal femur stabilized with 2 IlluminOss implants as adjunct fixation to a distal lateral femoral plate. The fracture was reduced and provisionally held in position with a plate, 2 distal screws placed anterior to the IM canal and 2 proximal unicortical screws in order to leave the IM canal open for the IlluminOss implant to pass through freely. A 5.0mm cannulated drill over a 2.8mm guidewire was used to create an entry at both the medial and lateral condyles outside the articular surface. The guidewires were then exchanged for the appropriate guidewires for the IlluminOss implants. The canal was prepared for the delivery of the IlluminOss implants using flexible reamers. Small diameter sheaths were introduced over the guidewires and the 22/13mm x 220mm & 22/13mm x 240mm implants were inserted using imaging. The IlluminOss implants were infused and expanded simultaneously with liquid monomer, filling the canal. After ensuring reduction using imaging, the monomer was then cured with application of blue visible light.The plate was definitively secured with screws that penetrated the IlluminOss implant.The plate, screw, and IlluminOss construct provided for stable fixation in severe osteoporotic bone allowing for immediate weight bearing as tolerated and range of motion activity. The patient was full weight bearing and pain free 10 days following surgery.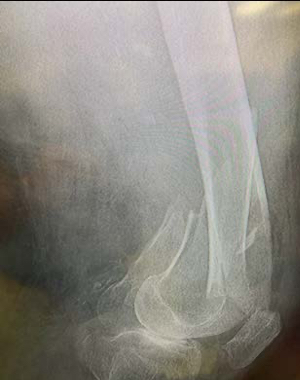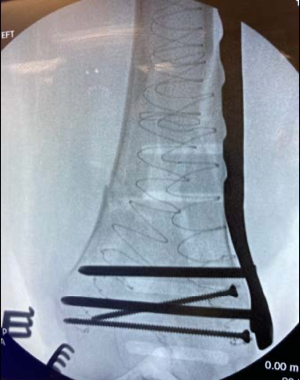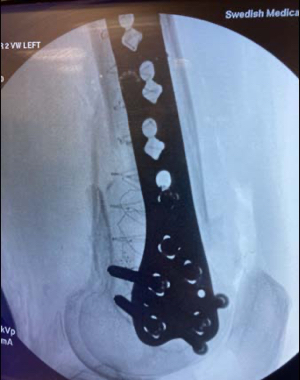 US Indication: The IlluminOss Photodynamic Bone Stabilization System is indicated for use in skeletally mature patients in the treatment of traumatic, fragility, pathological, and impending pathological fractures of the humerus, radius, ulna, clavicle, pelvis, fibula, metacarpals, metatarsals, and phalanges. The IlluminOss Photodynamic Bone Stabilization System can also be used in conjunction with FDA-cleared fracture fixation systems to provide supplemental fixation in these anatomic sites. The IlluminOss System may be used in the femur and tibia to provide supplemental fixation to an anatomically appropriate FDA-cleared fracture fixation system.
EU Indication: The Photodynamic Bone Stabilization System is indicated for use in fracture alignment reduction. It provides stabilization for bone fractures using a minimally invasive technique in which the bone is not subjected to significant weight bearing forces. This IlluminOss procedure pack is intended for use in treatment of the metacarpal, phalange, clavicle, radius, ulna, distal radius, olecranon and fibula. It is also intended for use in treatment of acute fractures of the humerus, and impending and actual pathological fractures of the humerus from metastatic bone disease.
For more detailed procedural information including Warnings, Cautions, Risks & Contraindications, please see the respective IlluminOss Surgical Technique Guide, Package insert, or visit www.illuminoss.com.
Version: 900624-B